Let SPI help you make more money
Ethically—Without selling out (because no one likes a sellout)
If you're hoping to generate an income online, and you haven't really taken the time to learn affiliate marketing, then you're absolutely leaving money on the table.
Chances are good that you're facing an all-too common dilemma: how to "crack the code" of monetization and generate an income ethically from the audience you've been building.
Maybe you worry that to do so you'll have to create your own products from scratch. But generating an income from your own products requires time, energy, and a clear sense of what your audience wants and needs.
On top of that, you may fret that creating your own products will make it seem like you're "selling out" and could damage the trust you've so carefully built with your audience.
Affiliate marketing offers a great solution to all these concerns. With affiliate marketing you can generate an income by recommending market-tested products you already trust and you know your audience will benefit from.
Affiliate marketing is a time-tested income-generation strategy with two powerful benefits: it allows you to maintain and strengthen your audience's hard-won trust in your brand, with no need to invest time and energy creating products of your own.
Sadly, it's easy to do affiliate marketing the wrong way—by putting money before your audience's needs and trust, and damaging that relationship in the process.
That's why I created 1•2•3 Affiliate Marketing.
What you'll learn in 1•2•3 Affiliate Marketing
THE TOOLS AND STRATEGIES YOU NEED TO BECOME SUCCESSFUL
1•2•3 Affiliate Marketing is built on 23 video lessons across five distinct modules, taking you from the very basics:
How to choose the right products
You'll learn how to choose products that your audience wants and will actually use, and that are worth the time you spend on promotion.
How to get an affiliate link—and what to do with it
I show you how to get affiliate links for the products you want to promote, including what to do if the company whose products you want to promote don't have an affiliate program set up yet.
How to pick the best platform
Learn where and how to share your affiliate messages so that your audience will see them and take action on them.
How to "stay legal" when promoting affiliate products.
Staying in compliance with rules around affiliate marketing and promotion can feel hard. I'll cover the basics of staying informed, so that you don't get into trouble with the FCC.
to the skills you need to make an affiliate marketing program that's customized to you and your audience:
How to tailor your promotions to your own comfort
My advice is not "one size fits all." Your level of comfort around promotions may be different than mine. I'll teach you how to adjust your promotions based on your comfort with selling.
How to build "product trust" when they aren't your products
Yes, it's not your product, but when you put your name behind a product, you need to have confidence in it. I'll show you what you need to do in order to inspire trust in the products you promote.
How to use the power of proof
Social proof can greatly accelerate your success—I'll show you how to use it to complement your campaigns and grow your revenue.
How to turn affiliate relationships into true business relationships
I'll teach you how to leverage your value as an affiliate into long-term relationships with the people behind the products, so that everyone involved gets more value.
...and many more rules, tools, and strategies that make the difference between affiliate marketing the right way and affiliate marketing the wrong way.
With step-by-step lessons and clear action items, course is designed to help you make steady, ongoing progress. I want you to get paid for your efforts AND be thanked by your audience for it. That's the goal, and I'm here to help you make it happen.
Ask questions and get support
1•2•3 Affiliate Marketing is a work-at-your-own pace course. You can go as fast as you want, or you can take your time. But what happens when you have a question?
We're glad you asked! Included with the course are two great resources to help answer your questions and get you unstuck:
Weekly office hours with Pat Flynn
Sometimes you just need to ask the teacher a question. That's why I host a weekly Zoom call that's only available to course students. Get your questions answered and learn from the questions of the other SPI course students. The last four call replays are available inside the course, .
Access to the private SPI Academy Circle community
Can't wait until office hours? Ask your question inside the SPI Academy!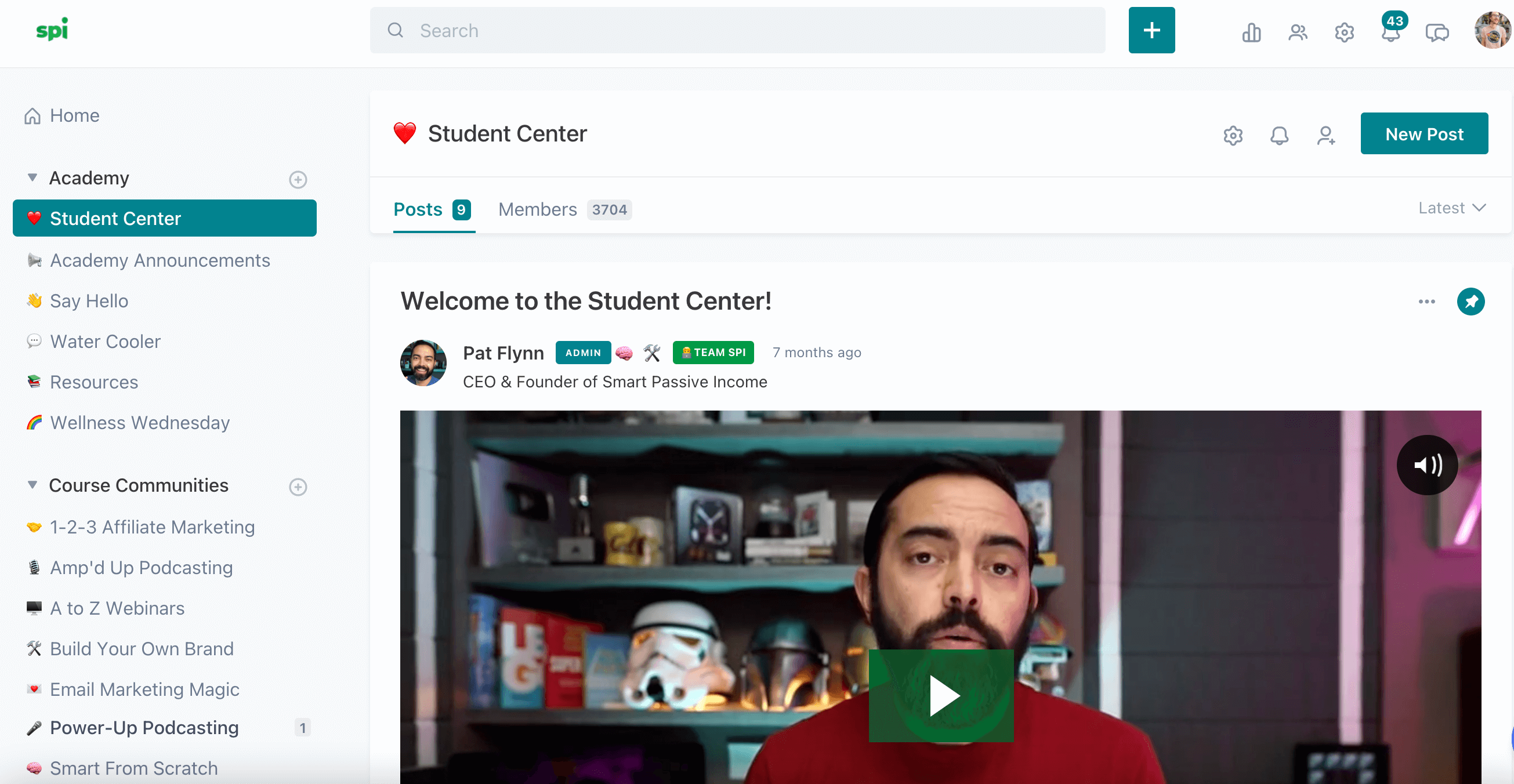 The SPI Academy is our private student community—the place where you can ask questions when you're stuck and share ideas to get honest feedback from other entrepreneurs like you.
First-time course students also receive a free one-month trial of our brand-new Learner Community, our paid community for people who are in the process of building their business. You'll get access to online events and discussions geared toward growing an online business.
The Academy is hosted on the Circle platform and moderated by Team SPI; this is not a Facebook free-for-all. You'll find instructions inside the course for how to join using your course login.
Is 1•2•3 Affiliate Marketing right for me?
1•2•3 Affiliate Marketing was built with the ambitious online business owner in mind. This course is geared for people who already have an online prescence, not those who are just thinking of starting a business from scratch.
The audience size doesn't matter—you can actually benefit quite heavily from implementing these strategies early on in your business—but you need to know who you're serving and have some sort of following online, whether it's in a small email list, on social media, or a website with a bit of traffic.
What it comes down to is this: I don't want to sell you anything that you cannot benefit from.
That's simply not how we do business at SPI. I want you to succeed. And if you don't have any online presence yet, this course is not going to help you succeed. Instead, I encourage you to check out our Build Your Own Brand course. When you're ready, this course will be here for you.
Does it sound like a good fit? Join us now!
Purchase by April 27 to get the biggest bonus I've ever offered!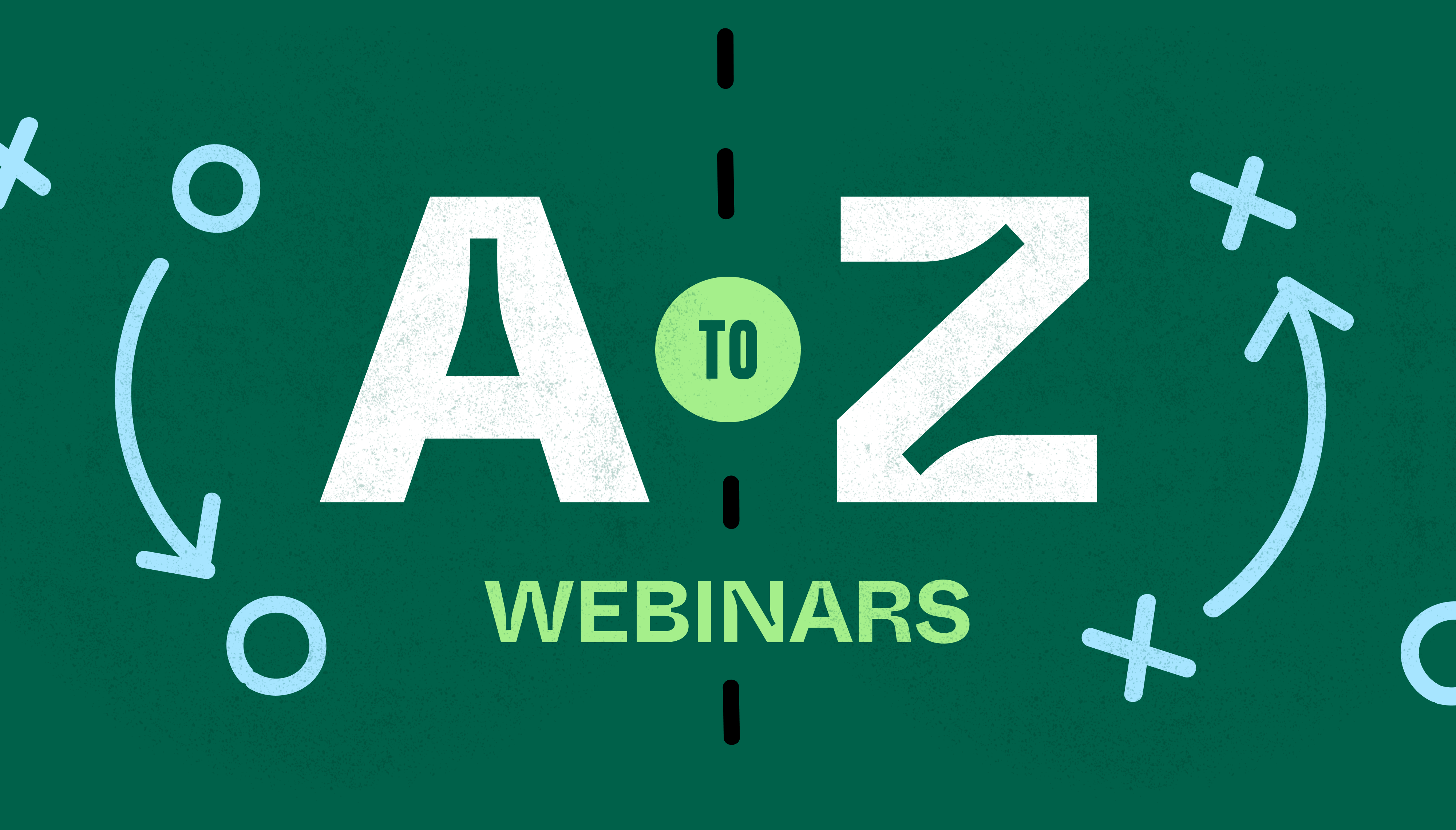 A to Z Webinars
Learn how to grow your list, increase trust, and make more money
$499 value
I've never offered another complete course as a bonus before!
You'll learn how to use the power of webinars help you build your business: from how webinars can help you grow your list and reach new audiences, how to provide tangible value to your attendees so that they are excited they attended, to a method of selling in the webinar that is authentic and welcomed by your attendees.
This full-length course sells for $499!
Your Key Takeaways from A to Z Webinars
Everything you need to succeed with webinars
The Mindset to Win Webinars: A successful webinar starts way before you go live. It starts right now, at the beginning. Getting into the right mindset and planning ahead will make all the difference when it's time to go live.
Equipment and Software: Webinars aren't push-button easy! They require a lot of planning, strategy, and a smart execution if you want to do them right. I'll show you the different equipment and software you need to run a smooth training that both you and your audience will enjoy.
How to Promote Your Webinar: A webinar doesn't mean much if no one shows up! You'll learn how to create a registration process that increases registration, and strategies for successfully promoting your webinar or training across your content platforms.
Preparing Your Presentation: Believe it or not, presentation matters! If your audience is going to spend their precious time coming to your webinar, you need to make sure it's high quality and valuable. I'll show you how to prepare your material and present it in a way that's compelling, engaging, and leaves your audience wanting more.
Going Live—Everything You Need to Know: Now for the stressful part—going live! Except it doesn't have to be stressful. I'll walk you through my trusty pre-webinar tech checklist and show you my setup during the webinar. You'll learn how to keep people engaged and how to deal with the unexpected.
How to Sell on Your Webinar (Without Being Sleazy): Webinars are one of the best ways to sell your products online, but only if you treat your audience right. Learn how to weave your sales message throughout your presentation so it feels natural and compelling, without coming across pushy or too salesy.
How to "Evergreen" Your Webinar: You've now created a valuable resource that you can use (or sell) over and over again! You'll learn several ways you can reuse and repurpose your webinar so you can keep getting a return on the work you did for months, or even years to come.
You'll get in-depth training for each phase of the webinar and workshop creation process, from choosing your topic and software tools to maximizing your attendance and using your webinar to sell effectively and with integrity.
Get the biggest bonus I've ever offered !
Enroll in 1•2•3 Affiliate Marketing by April 27 by 6:00 PM PT and you'll receive A to Z Webinars absolutely free! That's a value of $499! Learn how to help your audience and add revenue to your business with an affiliate marketing program that you custom-fit to your comfort and needs.
Frequently asked questions
ABOUT THE COURSE
When does the course start and finish?
The course is self-paced and you may take as long as you need to complete it. There is no time limit for completion.
How long will I have access to the course?
You will have lifetime access to the course through the SPI Courses platform (hosted on Teachable).
How do I access the course materials?
Log in to SPI Courses by clicking Sign Up/Login in the upper right of this page or by going here.
Course videos are not available for download and must be viewed through the platform. Some items, such as course worksheets, will be available to download.
What skills will this course teach me?
1•2•3 Affiliate Marketing will give you the rules, tools, and strategies that will help you develop great affiliate marketing relationships and drive revenue from those relationships. You'll learn how to identify the right products to promote, and how to share them effectively with your audience without compromising their trust or your reputation.
What equipment/tools will I need to complete the course?
Access to a computer, spreadsheet software (Excel or Google Spreadsheets), an email account, and an eager and open mind! Additionally, I ask that you have at least some online following already. It can be a small one, but you shouldn't be starting from scratch when getting access to this course. If you're not sure what your business is about yet, that's the most important thing to figure out first, before you purchase this course.
PURCHASING THE COURSE
Can I pay with PayPal?
Yes! On the checkout page under the "Billing Information" section, switch from the Credit Card radio button to the PayPal radio button. Choose your country and click "Enroll in Course" to be directed to the PayPal checkout.
What if I am unhappy with the course?
Oh no! We don't want that! We offer a 30-day money back guarantee. If you are unhappy with the course for any reason, let us know within the first 30 days and we will refund your payment. Upon receiving a refund, you will lose access to the course, along with any bonus courses or workshops.
GETTING HELP
What do I do if I need help?
For questions about your billing or accessing the course materials, email [email protected]
If you have a question about how you put the course methods to work in your own business, we encourage you to ask those in the SPI Academy or at Pat Flynn's Office Hours.
My Honest Disclaimer:
Hi. Pat here. I want to make sure you understand this is not a get rich quick scheme. The results I've achieved are not typical, and your results will vary significantly. I've put in years of effort, and have been very fortunate. Not all businesses succeed, and this product will not guarantee your success. This offering is an education tool. Always remember that running a business involves risk. Some businesses succeed, and some fail. Any testimonials are real and valid, but are not guarantees you will obtain the same results.
You should assume that any links leading you to products or services are affiliate links that I will receive compensation from just to be safe. Having said that, there are millions of products and services on the web. I only promote those products or services that I have investigated and truly feel deliver value to you.
© 2022 SPI Media LLC