Become a Webinar Rockstar with A to Z Webinars.
WITH PAT FLYNN
Introducing A to Z Webinars, a complete framework for creating, promoting, and delivering engaging webinars that help you grow your business. This course will not just help you run great webinars, but help you generate more revenue, too—even if you're not good in front of the camera or afraid of selling..
If I've learned anything in running my online business for the last 10 years, it's this:
The success of your entire business depends on creating a genuine connection with your audience.
People only buy from people they know, like, and trust, regardless of whether it's online or in-person.
But here's the problem - it's hard to create a genuine connection with your audience online!
Most of the methods people use, like blogging, posting regularly on Instagram, or creating a YouTube channel, can work well, but they're incredibly time-consuming, and they don't always directly grow your business.
So how do you build a relationship with your audience through the internet AND effectively grow your business at the same time?
With webinars and virtual workshops.
Hi, My Name Is Pat Flynn
AND MY BUSINESS RUNS ON WEBINARS & VIRTUAL MEETINGS
But hosting webinars wasn't always second nature. I didn't know the first thing about teaching my knowledge online. I was flying blind, like so many of us are forced to do.
But over the years, I've come to not only enjoy webinars (and get good at them) but also rely on them in my business. 
Hosting engaging, valuable, and compelling webinars has allowed me to build trust, grow my list, and sell my products without being sleazy or manipulative.
In this brand new course, A to Z Webinars, I'll teach you how to create, promote, and run webinars and virtual workshops that grow your list, increase trust, and help you make more money.
I've created A to Z Webinars because I want to show you how everything I have learned, and how you can make webinars and virtual trainings can work for you, too.
This isn't a course about what worked for me years ago. I will show you exactly what I am doing TODAY in my business to get the results I want.
Course Information
HERE'S WHAT'S INCLUDED WITH A TO Z WEBINARS
A to Z Webinars was built for all types of people, whether or not you would consider yourself a true marketer. With this course, you don't have to be an experienced marketer to get results like a pro. If you are looking for help with each step along the way, this is the course for you.
Work at your own pace. How fast you move through the course is completely up to you! The course never expires, so you can work at the speed of your own business.

Clear action items set you up for success, teaching you how to choose your webinar topic and the right software, get people signed up using smart marketing and promotion, structure your content for maximum impact and sell your product without being sleazy.

Gain exclusive access to a Facebook community to discuss coursework and trade ideas with your fellow classmates.

Office hours with Pat give you the opportunity to ask questions and get advice.
Your Key Takeaways
HERE'S WHAT WE ARE GOING TO LEARN
The Mindset to Win Webinars: A successful webinar starts way before you go live. It starts right now, at the beginning. Getting into the right mindset and planning ahead will make all the difference when it's time to go live. 
Equipment and Software: Webinars aren't push-button easy! They require a lot of planning, strategy, and a smart execution if you want to do them right. I'll show you the different equipment and software you need to run a smooth training that both you and your audience will enjoy.
How to Promote Your Webinar: A webinar doesn't mean much if no one shows up! You'll learn how to create a registration process that increases registration, and strategies for successfully promoting your webinar or training across your content platforms.
Preparing Your Presentation: Believe it or not, presentation matters! If your audience is going to spend their precious time coming to your webinar, you need to make sure it's high quality and valuable. I'll show you how to prepare your material and present it in a way that's compelling, engaging, and leaves your audience wanting more.
Going Live—Everything You Need to Know: Now for the stressful part—going live! Except it doesn't have to be stressful. I'll walk you through my trusty pre-webinar tech checklist and show you my setup during the webinar. You'll learn how to keep people engaged and how to deal with the unexpected.
How to Sell on Your Webinar (Without Being Sleazy): Webinars are one of the best ways to sell your products online, but only if you treat your audience right. Learn how to weave your sales message throughout your presentation so it feels natural and compelling, without coming across pushy or too salesy.
How to "Evergreen" Your Webinar: You've now created a valuable resource that you can use (or sell) over and over again! You'll learn several ways you can reuse and repurpose your webinar so you can keep getting a return on the work you did for months, or even years to come.
You'll get in-depth training for each phase of the webinar and workshop creation process, from choosing your topic and software tools to maximizing your attendance and using your webinar to sell effectively and with integrity.
How this course sets you up for success
No matter how thorough a course is, you're bound to have questions. We're here to support you:
Weekly office hours with Pat Flynn
Sometimes you just need to ask the teacher a question. We get that and we won't leave you hangin! That's why I host a weekly Zoom call that's only available to SPI course students. Get your questions answered and learn from the questions of the other course students. Call replays are also available inside the SPI Academy community that you will have access to! More on that below.
Access to the private SPI Academy Circle community
Can't wait until office hours? Ask your question inside the SPI Academy!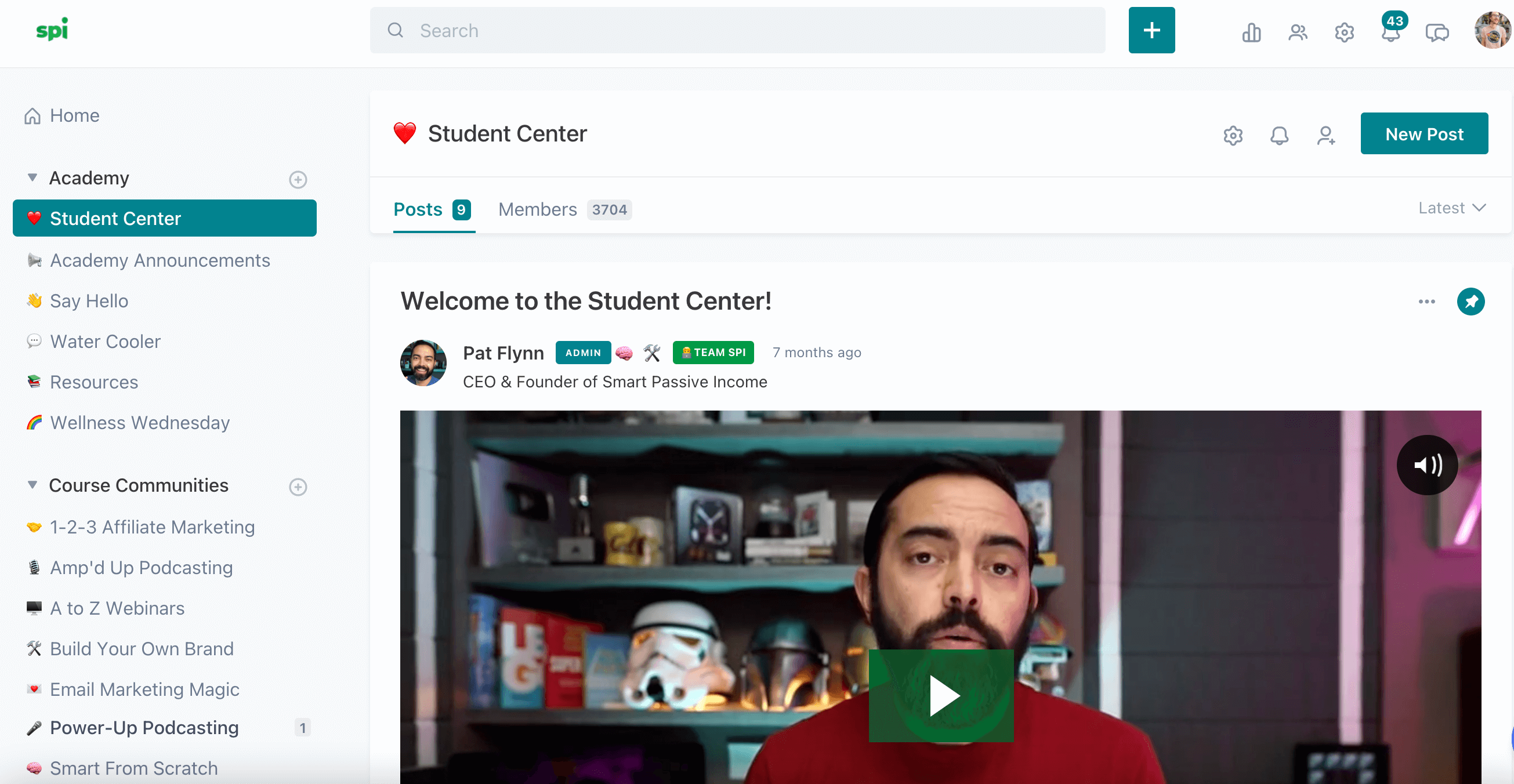 The SPI Academy is our private student community—the place where you can ask questions when you're stuck and share ideas to get honest feedback from other entrepreneurs like you.
First-time course students also receive a free one-month trial of our brand-new Learner Community, our paid community for people who are in the process of building their business. You'll get access to online events and discussions geared toward growing an online business.
The Academy is hosted on the Circle platform and moderated by Team SPI; this is not a Facebook free-for-all. You'll find instructions inside the course for how to join using your course login.
Frequently Asked Questions
About the Course
How long will I have access to the course?
You will have lifetime access to the course.
When does the course start and finish?
The course will be reopened periodically; use the email signup box to receive notifications when the course reopens. Once you have enrolled, you have ongoing access. The course is self-paced and you may take as long as you need to complete it.
How do I access the course materials?
Log in to SPI Courses by clicking Sign Up/Login in the upper right of this page or by going here.
Course videos are not available for download and must be viewed through the platform. Some items, such as course worksheets, will be available to download.
PURCHASING THE COURSE
Can I pay with PayPal?
Yes! On the checkout page under the "Billing Information" section, switch from the Credit Card radio button to the PayPal radio button. Choose your country and click "Enroll in Course" to be directed to the PayPal checkout.
What if I am unhappy with the course?
Oh no! We don't want that! We offer a 30-day money back guarantee. If you are unhappy with the course for any reason, let us know within the first 30 days and we will refund your payment.
GETTING HELP
What do I do if I need help?
For questions about your billing or accessing the course materials, email [email protected]
If you have a question about how you put the course methods to work in your own business, we encourage you to ask those in the SPI Academy or at Pat Flynn's Office Hours.
My Honest Disclaimer:
Hi. Pat here. I want to make sure you understand this is not a get rich quick scheme. The results I've achieved are not typical, and your results will vary significantly. I've put in years of effort, and have been very fortunate. Not all businesses succeed, and this product will not guarantee your success. This offering is an education tool. Always remember that running a business involves risk. Some businesses succeed, and some fail. Any testimonials are real and valid, but are not guarantees you will obtain the same results.
You should assume that any links leading you to products or services are affiliate links that I will receive compensation from just to be safe. Having said that, there are millions of products and services on the web. I only promote those products or services that I have investigated and truly feel deliver value to you.