Email Marketing Magic Bootcamp
Grow your list. Make more money. Automate like magic. Do it in just 8 weeks.
Next session coming in 2022
The next Bootcamp will open in 2022.
Let us motivate you to get your show launched! Sign up now to get notified when the next Bootcamp enrollment opens.
Email marketing that you can finally get excited about
Does writing emails for your business feel sort of like eating steamed broccoli as a kid?
It's gross and I don't wanna!"
I felt the exact same way when I started my business online, too.
I followed the advice I heard on a business podcast and signed up for an email marketing service, but it felt so painful. Growth on my list was slow, and when it came time to write emails to the few subscribers I had, I never knew what to write.
I was also worried about coming across too pushy or aggressive, so for several years I just left my list unattended and continued to pay monthly with zero return on investment.
What a waste. I had no idea what I was doing.
Today though, after years of trial and error, email marketing has become the #1 channel my businesses use to generate an income online.
I finally found the right way to do it, and it changed everything.
My list grows by hundreds every single day. Emails are automatically being sent to teach, serve and build trust with new subscribers, and every day more sales are coming in.
It works like magic.
And not only that, I never have to worry about being too pushy or sleazy. When you do email marketing right, you can actually get thanked for the emails you send—even the ones that sell something.
I know you want to help more people, or else you wouldn't be here. I also know you want to make sure that you spend your time and money on segments of your business that can actually have a clear return on investment.
That's why I'm excited to share with you that I've put together everything my team and I know about email marketing into one easy-to-follow, step-by-step course, Email Marketing Magic.
Here's How Email Marketing Magic will help you
You'll start from the beginning
We start from the beginning to set you up for success. Even if you have an email list already, most people overlook some key items that affect how emails show up in people's inboxes (or even if they show up at all).
You don't have to be a great writer
If you're not a great writer, I've got you. I've included all kinds of email templates that you can use in different parts of your business. Just copy and paste so that you can move on.
Easy to follow videos
I walk you through the entire process with step-by-step videos so that even if you're the most technologically challenged person in the world, you'll be able to get things done. This course is done at your own pace, but I do push you (in a friendly way!) just enough.
Learn what makes your audience happy
Instead of worrying about unsubscribes and people who complain, you'll learn how to send emails your audience actually WANTS to read, even if you're selling something.
Focus on simplicity over complication
Simple. Simple. Simple. I'm all about keeping things simple. Email marketing can turn into a giant complicated nightmare, but that does no one any good. I help you leverage the strategies with the biggest ROI with the least amount of overwhelm. This isn't push-button easy (if it were, you'd have it all figured out already), but I simplify and reduce the overwhelm as much as possible so that you can finally take action and make emails work for you.
You don't have to go it alone
Along with instant access to your course materials, you also get access to a community of other students, as well as access to me during office hours once a week, all for no additional recurring payments.
Advice that grows with you
As your business expands, you can venture into the more advanced areas of the course to help you take growth, monetization and automation to new levels.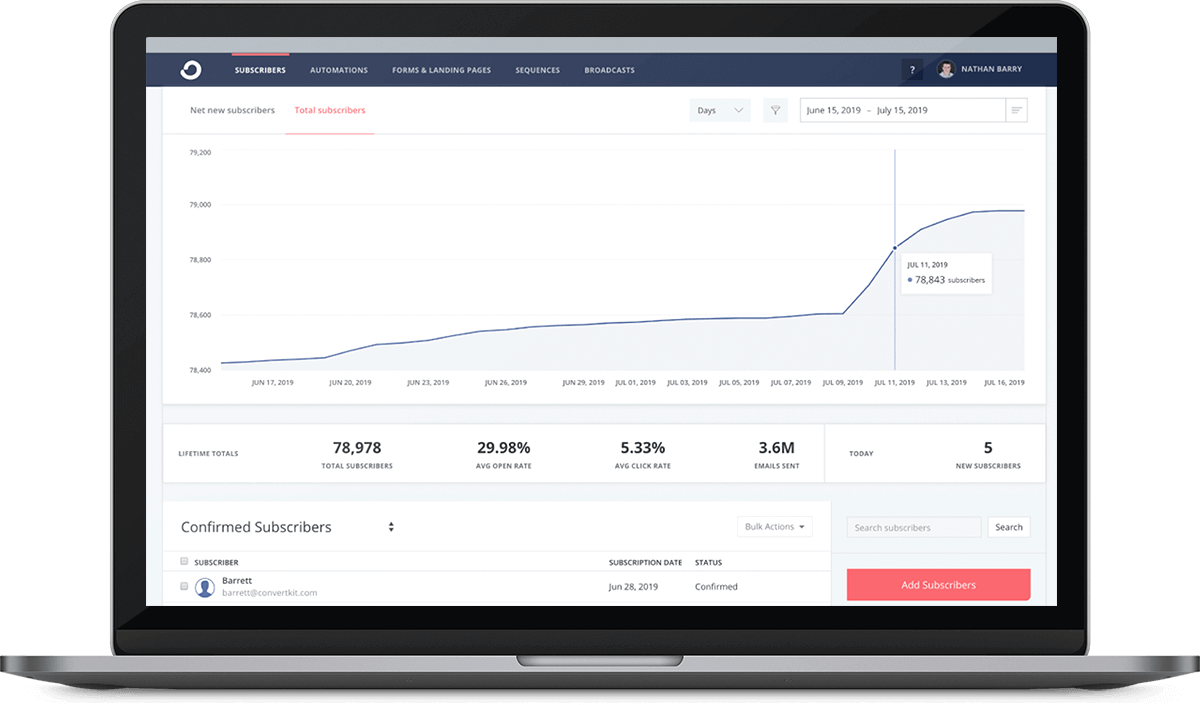 Learn to Use ConvertKit
ConvertKit is my favorite email service provider because it strikes a balance between being easy to use while still giving its users access to powerful automation. All step-by-step videos in the course use ConvertKit. You don't have to use ConvertKit to succeed with this course, but it is who we recommend.
Now With Live Q&A Sessions and Professional Support
With the Email Marketing Magic Bootcamp, we combine our best-selling course with live, direct support from Team SPI every week for eight weeks.
Working through an online course can be a lonely experience, which is why we've created this guided Bootcamp experience. Each week, the SPI Team will lead you through the curriculum as well as host two live sessions to support your podcasting journey.
We'll help you stay on track to finish the course while also offering you live support through expert question and answer sessions, coworking sessions, and more.
You'll get to connect with your fellow students as you collaborate in your own Email Marketing Magic discussion forum. You will ask questions, share your progress, support each other through roadblocks, celebrate wins, and get to the finish line all in just eight weeks.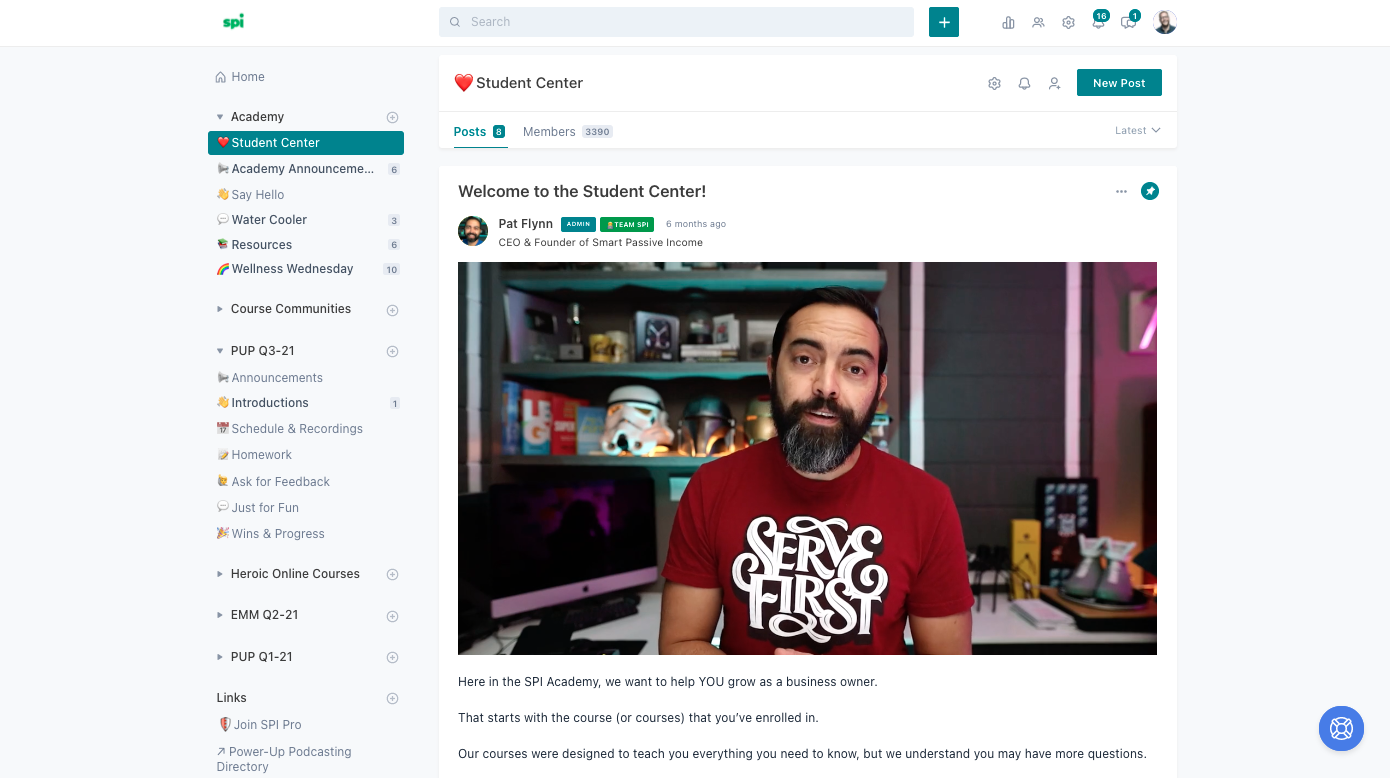 Here's what you get in the Bootcamp
Tested Course Content
Lifetime access to the Email Marketing Magic course (a $499 value).
Thousands have taken the course, and content is regularly updated as the email marketing landscape changes. It's always there in case you have a question.
Beginner to Advanced Advice
The lesson content grows with your business.
Beginner content for when you're just getting started, all the way through advanced segmentation for sophisticated email marketing programs.
Live Instruction
15 live sessions help you stay motivated and make consistent progress.
Our instructors, including drop-ins from Pat Flynn, take you through the material. We have working sessions, Q&A, and networking built in, so that you'll get to know your fellow students and build friendships that endure long after the course ends.
Bootcamp Community
Our interactive forum helps you stay on track between sessions.
Ask our instructors questions, get feedback on your ideas, and offer encouragement to your classmates. After the course ends, you have ongoing access to the SPI Academy forum, which includes Pat Flynn's weekly office hours.
Bootcamp schedule
To Be Announced
You'll learn what to write and when to send it
You are going to learn what you can do instead of sending boring email newsletters that never get opened, take a ton of time, and give you a ton of anxiety. Pat will teach you exactly what emails to send, to whom, and at what time. to help you get more engagement and eventually sales.
Instead of worrying about unsubscribes and people who complain about you sending emails, you're going to know what emails to send and actually get thanked for sending them!
Go beyond the basics
Pat takes you beyond the basics of email marketing. You will create masterful campaigns to collect more leads and see massive spikes in your reporting data. We hope that's cool with you. 😀
You will gain a professional-level understanding of who is on your list, and how to talk directly to them instead of just "blasting" messages to everyone.
You will learn what tools play a part in email marketing success, and Pat will show you step-by-step why they are important and how to use them.
Clear action items set you up for success
Have you ever taken a course that has lots of great information, but at the end of it you don't know what you're supposed to do with all that great information?
This is not one of those courses.
At the end of each lesson, Pat gives you a very clear, very manageable action item—your assignment for the lesson. This makes sure that you are making steady, ongoing progress and that you start seeing results right away.
The next Bootcamp will open in 2022.
Let us motivate you to get your show launched! Sign up now to get notified when the next Bootcamp enrollment opens.
Frequently Asked Questions
What if I already own Email Marketing Magic?
Existing Email Marketing Magic students can enroll in the Bootcamp at a special price and should plan to follow the Bootcamp schedule alongside the new students. Check your email for access to the student price.
Do you offer payment plans for the Email Marketing Magic Bootcamp?
We offer a two-payment plan for people enrolling at the retail price.
What equipment/tools will I need to complete the course?
At the beginning of the course, you will only need a computer and an email account. We will walk you through your options for software equipment along the way.
Can I pay with PayPal?
Yes. On the checkout page under the "Billing Information" section, switch from the Credit Card tab to the PayPal tab. Choose your country and click "Enroll in Course" to be directed to the PayPal checkout.
What is the course refund policy?
This is a brand new experience that my team is investing a lot of time and effort into. Your success will be dependent on your willingness to stay on pace with us throughout the Bootcamp. Because of that, we will not be offering our typical 30-day money back guarantee, and strongly encourage you to commit to yourself (and us!) to complete the Bootcamp.
The next Bootcamp will open in 2022.
Let us motivate you to get your show launched! Sign up now to get notified when the next Bootcamp enrollment opens.
My Honest Disclaimer:
Hi. Pat Flynn, founder of SPI Media here. I want to make sure you understand this is not a get rich quick scheme. The results I've achieved are not typical, and your results will vary significantly. I've put in years of effort, and have been very fortunate. Not all businesses succeed, and this product will not guarantee your success. This offering is an education tool. Always remember that running a business involves risk. Some businesses succeed, and some fail. Any testimonials are real and valid, but are not guarantees you will obtain the same results.
You should assume that any links leading you to products or services are affiliate links that I will receive compensation from just to be safe. Having said that, there are millions of products and services on the web. I only promote those products or services that I have investigated and truly feel deliver value to you.
© 2022 SPI Media LLC