Learn to podcast the smart way
With Pat Flynn
So, you've decided to start a podcast? Awesome! A podcast is one of the best ways to build a super-loyal audience and grow your business, even from scratch. But where do you start?
There's a lot of planning that goes into creating a podcast and your head is probably full of questions like...
How do I come up with episode content?
What equipment and software should I use?
How do I get my show loaded into Apple Podcasts?
How do I make sure people find my show?
With this course, you will get a step-by-step walkthrough of the entire process of launching a great podcast. With high-quality videos (that aren't too long) and examples along the way, you'll have your new podcast up and running in no time, so you can start growing and delighting your audience.
Your audience is waiting to hear from you.
What you'll learn in Power-Up Podcasting®
Hint: More than just talking into a microphone
Through each stage of the course, you'll learn everything you need to know about creating and launching a successful podcast:
The how and why of podcasting
You'll gain a deep perspective on how and why podcasting is a great platform for both you and your listeners, and how to create engaging content that grows your audience and keeps them coming back.
Mastering the technical elements
You'll gain the know-how required to hit the airwaves like a professional with an in-depth understanding of podcasting equipment, voice recording, audio editing, interviewing, mp3 tagging, hosting, and publishing.
Setting up your website, show notes, and more
You will learn how to get your show published, including developing show notes, finding a website or blog for your podcast, submitting your show to iTunes, and creating accurate transcriptions of your episodes.
How to launch your podcast with an unforgettable bang
Effectively promote and market your launch on social media, be a guest on other podcasts in similar niches, write amazing blog posts that draw in listeners, and maintain your podcasting brilliance for years to come.
Want to know more? Explore the full list of lessons
Click the button to view the full list.
How this course sets you up for success
Starting a podcast is hard work, but you're not alone
I know all too well how intimidating it can be to start a podcast. It took me 18 months from when I first announced that I was starting my podcast until I actually launched it.
I got stuck! Part of it was learning all the technical aspects (I didn't have a course to help me get started) but mostly, I was scared. I was so concerned with wanting to do it "right" that it kept me from the most important step, getting started.
That's why I've created this course! This is what I wish I had when I first started.
I want you to have a place to go when you have questions or you need a little encouragement. Power-Up Podcasting® has built-in ways for you to get help, whether you're looking for feedback on your podcast logo, stuck with an editing problem, or you just need a little pep-talk before your big launch.
That's why I've set up two ways for you to get support:
Weekly office hours with Pat Flynn
Sometimes you just need to ask the teacher a question. That's why I host a weekly Zoom call that's only available to course students. Get your questions answered and learn from the questions of the other SPI course students.
Access to the private SPI Academy Circle community
Can't wait until office hours? Ask your question inside the SPI Academy!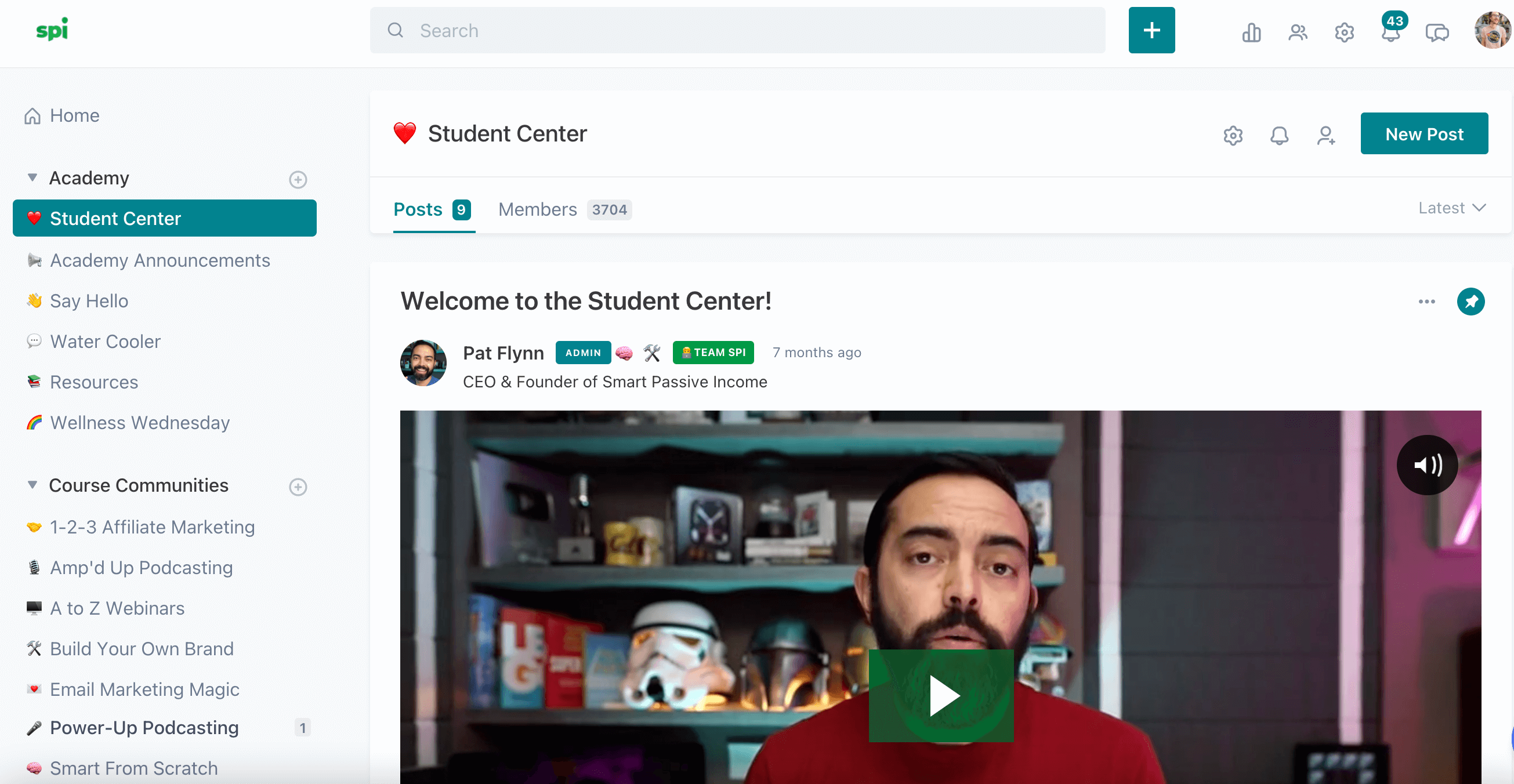 The SPI Academy is our private student community—the place where you can ask questions when you're stuck and share ideas to get honest feedback from other entrepreneurs like you.
First-time course students also receive a free one-month trial of our brand-new Learner Community, our paid community for people who are in the process of building their business. You'll get access to online events and discussions geared toward growing an online business.
The Academy is hosted on the Circle platform and moderated by Team SPI; this is not a Facebook free-for-all. You'll find instructions inside the course for how to join using your course login.
Don't take my word for it
Real Power-Up Podcasting® students share their experiences with the course and how it has benefitted their businesses (and even changed their lives).
These are real students, just like you. They knew they had a message they wanted to share, just like you. Power-Up Podcasting® helped them start their podcast to share that message. Let it help you, too.
I wanted to have a bigger impact.
I always loved working with my mentees and I wanted to do that on a bigger scale...I knew a podcast was the way to do that but I had no clue how to get started...literally within a month, The Epic Success Podcast with Dr. Shannon Irvine is live!...It's by far the best course I've ever taken."
— Dr. Shannon Irvine
---
---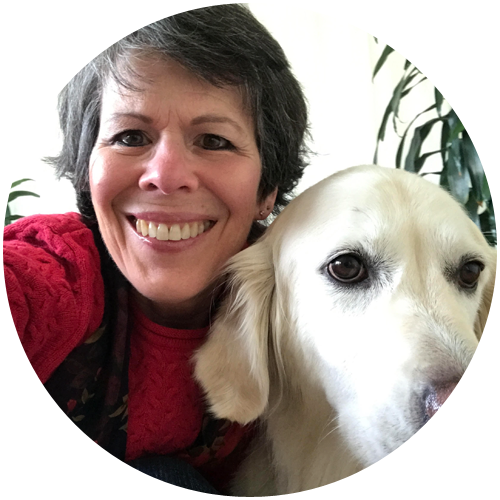 Even in my 60s, I went for it, because Pat showed me it's doable,
and I don't believe that there's anything you can pay for that will give you the feeling I'm experiencing myself, doing my show. Nothing. There's no amount of money, because this feeling comes from what I'm already getting back, and I've only just gotten started."
— Dr. Barbara A. Cohen, Ph.D., Host of Harness Your ADHD Power
These are real students, just like you. They knew they had a message they wanted to share with a larger audience—just like you do. Power-Up Podcasting® helped them start their podcast to share that message. Let it help you, too.
Frequently asked questions
ABOUT THE COURSE
When does the course start and finish?
The course is self-paced and you may take as long as you need to complete it. There is no time limit for completion.
How long will I have access to the course?
You will have lifetime access to the course through the SPI Courses platform (hosted on Teachable).
How do I access the course materials?
Log in to SPI Courses by clicking Sign Up/Login in the upper right of this page or by going here.
Course videos are not available for download and must be viewed through the platform. Some items, such as course worksheets, will be available to download.
What skills will this course teach me?
Power-Up Podcasting® will teach you how to set up your recording equipment, the fundamentals of recording and editing audio, principles for good recording (both solo and interviewing others with remote software), how to prepare a podcast file for upload, setting up your podcast host, submitting your show to directories, and give you a basic plan for launching your show, including what you should include on your website and how to announce your show to your audience.
What equipment/tools will I need to complete the course?
Initially, you just need a computer with an internet connection. The first step of the course will walk you through the equipment you will need and our recommendations, including a microphone setup. The course offers tutorials on several types of audio recording software, including Audacity, which is free. Expect to spend $12–20/month for podcast file hosting if you go with our recommended host.
PURCHASING THE COURSE
Can I pay with PayPal?
Yes! On the checkout page under the "Billing Information" section, switch from the Credit Card radio button to the PayPal radio button. Choose your country and click "Enroll in Course" to be directed to the PayPal checkout.
What if I am unhappy with the course?
Oh no! We don't want that! We offer a 30-day money back guarantee. If you are unhappy with the course for any reason, let us know within the first 30 days by emailing [email protected] and we will refund your payment.
GETTING HELP
What do I do if I need help?
For questions about your billing or accessing the course materials, email [email protected]
If you have a question about how you put the course methods to work in your own business, we encourage you to ask those in the SPI Academy or at Pat Flynn's Office Hours.
Starting a podcast doesn't have to be hard
Stop thinking about starting a show and get started today. Power-Up Podcasting® will hold your hand through all the hard parts, including setting up your studio, learning how to edit, and getting your podcast out into the world.
Choose the pricing plan that works for you. 30 day "Win with Flynn" guarantee. If you're not 100% satisfied with your purchase, let us know in 30 days and you'll get 100% of your payments back, no questions asked.
My Honest Disclaimer:
Hi. Pat Flynn, founder of SPI Media here. I want to make sure you understand this is not a get rich quick scheme. The results I've achieved are not typical, and your results will vary significantly. I've put in years of effort, and have been very fortunate. Not all businesses succeed, and this product will not guarantee your success. This offering is an education tool. Always remember that running a business involves risk. Some businesses succeed, and some fail. Any testimonials are real and valid, but are not guarantees you will obtain the same results.
You should assume that any links leading you to products or services are affiliate links that I will receive compensation from just to be safe. Having said that, there are millions of products and services on the web. I only promote those products or services that I have investigated and truly feel deliver value to you.
© 2022 SPI Media LLC